---
The foundation Stapferhaus has no collection. But still, intangible cultural heritage plays a central role to the self understanding, work and exhibitions of the institution. Through different means, Stapferhaus "exhibits" and discusses our world of today. And by doing so produces, on several levels, intangible cultural heritage.
"1001 HEIMAT"
Description of the project / practice / program
---
Exhibition "HEIMAT. Drawing the line"

We talk a lot about "Heimat"* these days. About lost homes, new homes and a home that will perhaps never be as it once was. But what is home? Is it a place or an emotion? A nation or a childhood memory? And which home do we want?

Stapferhaus takes you on a journey of discovery: from the first home to the far reaches of space. On the way, you experience fear, longing and reassurance. You take risks, but will be safe. You encounter prejudices as you ride on a Ferris wheel and come face to face with yourself in the mirror garden. You gain an insight into a foreign home, begin searching for your own personal home and encounter the great "Heimat"-questions of our time.

The HEIMAT exhibition is supported by a broad programme of events and a publication.
How were practitioners of intangible cultural heritage involved?
---
The pre-project "1001 HEIMAT*" asked 1000 visitors at 12 fun fairs in whole Switzerland to take a free ride on a ferris wheel - if they would discuss their feelings of "Heimat" with us. We filmed the interviews and let them fill out a questionnaire on iPads. This material is part of a website (www.1001heimat.ch/en) and of the exhibition "HEIMAT. Drawing the line" (www.stapferhaus.ch/en/exhibition), where the visitors also take a ride on a Ferris wheel.

* The German word "Heimat" has a broader meaning than its English translation "home". The powerful emotional ties it evokes are probably best described as a "sense of belonging".
CV of the author
---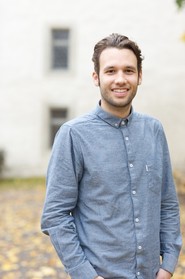 As project manager at Stapferhaus Lenzburg, Switzerland, Alain Gloor develops exhibitions, event series and publications on topics such as money, the idea of home or the phenomena of lying and fake news. Consulting in the field of cultural management, developing independent cultural projects and working as freelance journalist are among his other professional activities. MA in History and Philosophy of Knowledge at ETH Zurich.