IMP Book and Toolkit are now online!
Two of the main project outputs of the Intangible Cultural Heritage and Museums Project are out now and freely available!
Download the book Museums and intangible cultural heritage. Towards a third space in the heritage sector. A companion to discover transformative heritage practices for the 21st century through the toolkit (its first item). Here you can also download a Dutch, French, Italian, German or English executive summary of the book publication
Livestreaming of the IMP 2020 Concluding Symposium
Registrations for IMP 2020 have now closed, but if you cannot join us in Brussels the event will also be available to follow on our YouTube channel.
Subscriptions are open! IMP Concluding Symposium: 'Museums and intangible heritage: towards a third space in the heritage sector'
26.02.2020 - Brussels
Over the past three years, the Intangible Cultural Heritage and Museums Project (IMP) has gathered a rich multitude of museum professionals, heritage communities, academics, policy makers and networking actors, and we travelled to The Netherlands, Italy, Switzerland, France and Belgium in order to discover the myriad of ways in which practices of intangible cultural heritage are being incorporated in museum work.
On February 26, 2020 IMP will host its Concluding Symposium in Brussels (BE):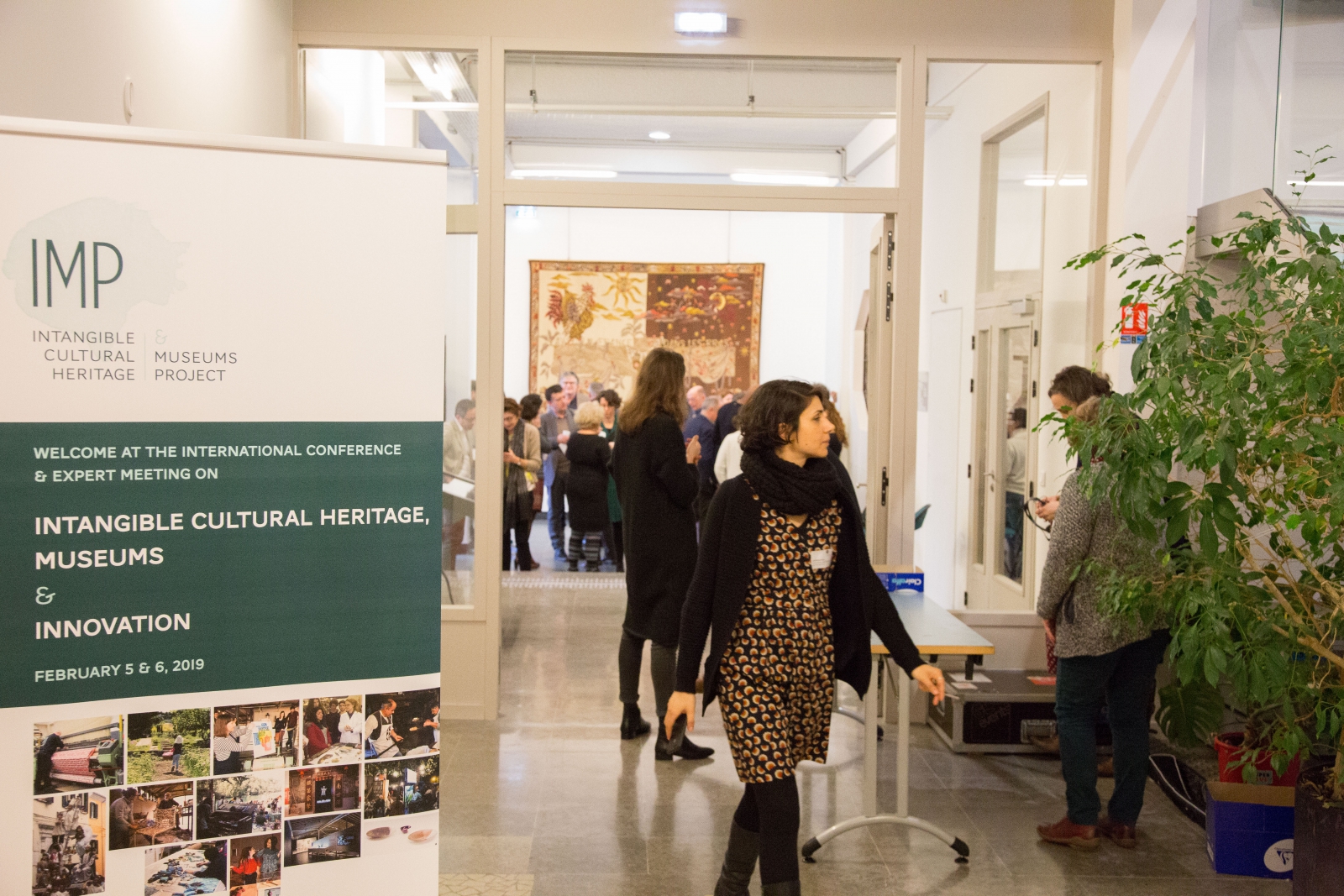 bringing together key players in the museum sector and intangible heritage networks,
summarizing and valorizing the theoretical and practical insightsthat have been pooled throughout the past three years of working on this complex topic in a comparative European context,
and stating recommendations for future development and related policies.
The IMP Project features in the ICH Courier!
An article on the Intangible Cultural Heritage and Museums Project appeared in the latest volume of the ICH Courier. You can read the article here.
IMP is hiring! Vacancy - Author / Editor
IMP is looking for a skilled author/editor to coordinate the publishing of a book and executive summary.
Call for proposals - IMP Mechelen (BE)
Are you a museum professional from Belgium, The Netherlands, Italy, France or Switzerland? Do you have an inspiring case to present on the topic of intangible cultural heritage and cultural policies? Then read the latest call for proposals and submit your application to participate to the International conference and Expert meeting on 'ICH, museums and cultural policies' that will take place in Mechelen on May 7-8, 2019! Deadline: January 21, 2019 Deadline postponed: February 8, 2019
IMP workshop during NEMO Annual Conference (Malta, 16.9.2018)
IMP is invited by NEMO - the Network of European Museum Organisations - to give a workshop during their annual conference that will take place in Malta next November on ICH and museums! Kia Tsakiridis (Werkplaats immaterieel erfgoed) and Sophie Elpers (Kenniscentrum Immaterieel Erfgoed Nederland) will be hosting this workshop on the 16th of November. You can read all about it here.
Check out the full conference program and subsCribe to the workshop
Call for proposals - IMP Aubusson (FR)
The newest call for proposals is online! Do you have an inspiring case to present on the innovating and transformational power/capacity that intangible cultural heritage (ICH) and its safeguarding brings into museums today? Don't hesitate and send in your application! Deadline: November 9, 2018. CLOSED
Photos IMP Berne (CH)
Check out the IMP Facebook for photos of the International conference & Expert meeting on Intangible Cultural Heritage, Museums and Urbanised Society (Berne, 25-26.09.2018). Photo credits: Joel Schweizer. Go to IMP Facebook
Call for proposals - IMP Berne (CH)
Check out the call for proposals for the International conference and Expert meeting on Intangible Cultural Heritage, Museums and Urbanised Society that will take place in the Swiss Alpine Museum on 25&26.09.2018. Deadline: May 7, 2018. CLOSED
Call for proposals - IMP Palermo (IT)
For the International conference and Expert meeting in Palermo, we are looking for inspiring cases from museums that focus on intangible cultural heritage and the participation of communities, groups and individuals. CLOSED