Report of the Expert Meeting on Intangible Cultural Heritage, Museums and Cultural Policies (8 May 2019, Mechelen, BE)
Introduction
Following the International Conference, the fifth Expert Meeting of the Intangible Cultural Heritage and Museums Project took place on 8 May in Museum Hof van Busleyden, Mechelen, on the theme of Cultural Policies. The programme included the presentation of a position paper by Hanna Schreiber, an additional twelve presentations of museum and ICH case studies, the perspectives of NEMO and ICH NGO Forum – two of IMP's project partners, and a workshop facilitated by IMP's methodological consultant, Jasper Visser. Participants included museum and heritage professionals and practitioners, policy makers ranging from the local to the international level, and academics.
The day's programme was opened by Noël Salazar (University of Leuven), with reflections on the International Conference the day before. From an anthropological point of view, he confirmed the important issue that we should be aware of our discourse on heritage, and of our conceptualization of ICH. Engaging in a particular discourse often already implies the attribution of specific meanings, which may not correspond to the ones a conversation partner has in mind. He also signalled the ambiguous relationship between (intangible) cultural heritage and tourism. Tourists visiting museums in other locations are not always included in discussions on ICH, leaving outstanding opportunities for improvement.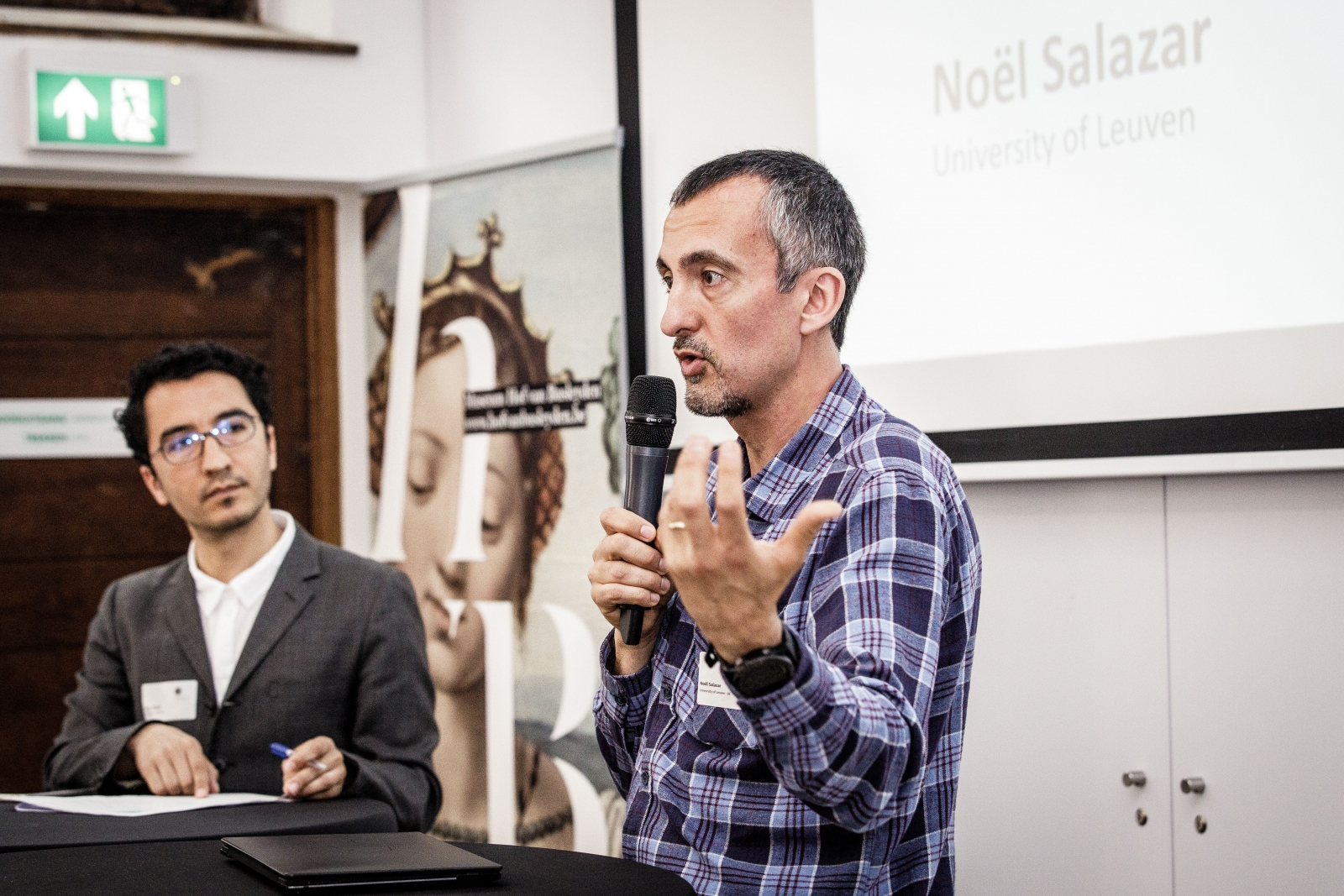 Position paper
Next, Hanna Schreiber presented her position paper, entitled "Pride, Prejudice, Sense or Sensibility? In Search of the Characteristics of the Relationship between EU, Europe, Intangible Cultural Heritage and Museums." According to her research, the EU policy level rarely moves beyond a general awareness of intangible cultural heritage as an important component of cultural heritage overall, and has so far not implemented the 2003 UNESCO Convention. As a result, an EU policy that specifically aims at the safeguarding of ICH, is currently lacking. This, in turn, has implications for the place of ICH in museums across Europe, a development that is as of yet not backed up by a transnational policy. In theory, the EU's emphasis on a shared cultural heritage seems to align with the 2003 Convention's content of intangible cultural heritage. In practice, however, this relationship shows tension and brings about many challenges. For example, considering that the EU often regards cultural heritage as an economy booster, this creates the risk of commoditizing intangible cultural heritage in ways that can oversimplify it. In sum, the relationship between ICH and the EU policy level holds much room for improvement. Integrating principles of sustainable development may be an important step in this direction.
NEMO – Network of European Museum Organisations and ICH NGO Forum are two of IMP's supporting partners. Julia Pagel represented NEMO, and pointed out that museums have relatively little experience with including ICH. Only in the last 15 years has this been gradually changing. An important contribution of organizations such as NEMO, is that they provide a networking environment that promotes sharing information, experience and good practices. Meg Nomgard contributed a perspective from ICH NGO Forum, and confirmed the often heavy emphasis placed on tangible heritage in museums. When comparing intangible and tangible heritage, the first often appears to embody a set of "soft values", associated with more objective aspects liked to tangible heritage. Meg Nomgard's examples included the past (tangible) vs. processes and changes (intangible), experts (tangible) vs. traditional bearers and users (intangible), and value (tangible) vs. usefulness (intangible).
Case studies in museums and ICH
The afternoon of the Expert Meeting featured additional museum case studies.
Marc-Antoine Camp heads the Zentrum für Appenzeller und Toggenburger Volksmusik of the Roothuus Gonten, in Switzerland. This is simultaneously a museum, library, archive, research partner and public outreach organizer, with an emphasis on traditional music and yodelling in the Appenzell and Toggenburg regions. ICH practitioners are invited to take part in the activities of the Roothuus Gonten, and to share their music practice and manuscripts of compositions. Historical manuscripts are also made available to contemporary practitioners. Among others, the Roothuus Gonten recently ran the Jodel Solo project, where ca. 60 yodellists performed in locations that each time had different landscape and acoustic properties.
Hilde Schoefs subsequently described the Belgian open air museum of Bokrijk. The museum contains ca. 140 buildings and numerous artefacts and utilitarian objects, reflecting daily life in Flanders from the 17th century up until 1950. The open air museum places a strong emphasis on depicting village life, including traditional craftmanship as an important aspect of intangible cultural heritage. Moreover, Bokrijk features an arboretum, and thus also includes natural heritage.
This session was concluded by Pierre Sanner, director of the Mission francaise du patrimoine et des cultures alimentaires. The main aim of the Mission is to build a network of cultural facilities dedicated to French gastronomic culture. In 2010, the French gastronomic meal was included on UNESCO's Representative List of the Intangible Cultural Heritage. In a currently ongoing project, four Cités de la Gastronomie will be opened before 2024. These will be multidisciplinary facilities, open to the public, that will focus on subjects such as food sustainability, wine culture, and health. Through masterclasses, performing arts, seminars, exhibitions, etc., the public will be invited to actively engage with this aspect of France's intangible cultural heritage.
In parallel to these, the final set of three museum case study presentations took place.
Iris Nutma described a particular project within Museum Joure, a cultural history museum that focuses on the act of "making", both in the sense of traditional crafts and more modern, industrial production methods. It contains both tangible objects as the outcome of such production processes, but also information on the intangible aspects of e.g. traditional craftsmanship skills and knowledge. In the 2019 exhibition The Great Enjoyment, Museum Joure highlights the import of formerly colonial goods such as coffee, tea and tobacco. Aside from objects, the exhibition includes household traditions and rituals, and also integrates colonial history and present-day debates on e.g. health.
Laure Gilbert presented Le Daviaud, an ecomuseum in La-Barre-de-Monts, France. The museum was created in the 1980s, with an emphasis on the intangible cultural heritage of the Vendee Breton Marshes. The ecomuseum encompasses the history and natural heritage of this region, also including artistic elements such as the culture maraîchine, and traditional knowledge related to living in the marshlands. The museum includes both an indoor exhibition and an outdoor walking path.
Finally, Cinzia Marchesini presented the Trasimemo project, a memory activation project centered around the intangible cultural heritage of the Trasimeno region in Umbria, Italy. In order to preserve the tangible but mostly intangible heritage of the region, Trasimemo develops a virtual archive in collaboration with the local community. It contains traditional craftmanship practices, knowledge and information about their social contexts, and is accessible through exhibition spaces modelled on ethnographic museums. In addition, Trasimemo is a public meeting space where practitioners and visitors can encounter each other, and learn through education, debates and training opportunities.
IMP Toolkit workshop
IMP's methodological consultant, Jasper Visser, subsequently held a workshop on the development of the toolkit. This toolkit contains a range of practical methods and applications for integrating intangible cultural heritage in museum settings. The toolkit is accessible to specialists in this field, but also to novices to this interaction who want to explore the opportunities of museum contexts for their ICH practices, or of ICH practices for their museum settings.
At the Expert Meeting, Jasper divided participants into three groups discussing different policy levels. The overarching question was how safeguarding ICH could be integrated with policies on or by museums, at a local, national and international level. Participants debated this topic in groups based on their primary policy level interest. The toolbox is currently in an advanced stage of development, and its final version will be presented at the IMP Closing Symposium on 26 February 2020 in Brussels.
Sophie Elpers of the Dutch Centre for Intangible Cultural Heritage, and a member of the Intangible Cultural Heritage & Museums Project Steering Group, concluded the Expert Meeting.
Return to the report of the International conference on ICH, Museums and Cultural Policies